This is the first time in years that I haven't had any travel plans on my radar. While it feels strange not to be preparing for a trip, I've really been enjoying this time at home. The global circumstances are far from ideal, but in light of finding positives, the tranquility I've felt this last month has been something I haven't experienced in a long time. More on that later another time…
I know many of you are experiencing some intense wanderlust, so today I wanted to share some of my favorites movies that will inspire your wanderlust and help you mentally escape on a European adventure.
ps. if you're wondering why the "wine" has a funky color…it's because it's apple juice 😉
1. ROMAN HOLIDAY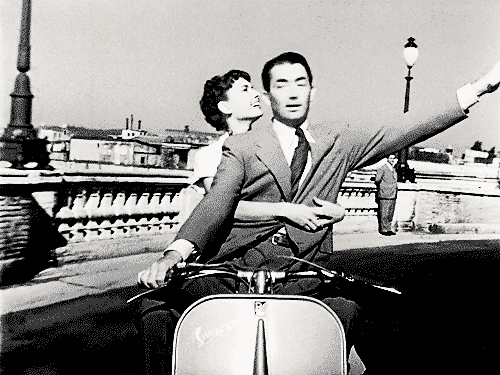 Two of my favorite things in one film – Audrey Hepburn and Rome! Roman Holiday is a classic that will lead you through a 1950s Roman adventure. If you haven't seen it, now is a perfect time. Audrey plays a sheltered Princess who falls asleep on a park bench and is woken up by an American journalist. They both spend the day together experiencing 'la dolce vita,' eating one too many gelatos, and cruising the narrow streets in Vespas. I promise after you watch this movie, you'll be booking your very own Roman Holiday.
2. AMÉLIE
A French film classic that will take you through the most inspiring Parisian streets and nooks. Amelie is the story of a quirky French waitress who makes it her mission in life to make people happy. Along the way, she finds some pretty interesting characters. This romantic comedy is one of my travel favorites. If you haven't been to Paris, this will surely add the city of love to your bucketlist.
3. THE LIZZIE MCGUIRE MOVIE
Goodbye home! Hello Rome! Our favorite 90s Disney Channel star, Hilary Duff, takes us through an adventure that dreams are made of…The Lizzie McGuire Movie will forever be one of my favorite movies and the movie that sparked my desire to travel the world. Lizzie's adventure takes her through Rome as she impersonates an international pop singer, of course, there are a lot of awkward, funny, and romantic moments sprinkled throughout the movie.
4. THE WAY
The Way one of my favorite films.  It's one of the most inspirational and powerful travel films I've seen. Martin Sheen plays a father who flies to France to recover his son's ashes. Instead of returning home, he decides to walk the Camino de Santiago pilgrimage through France and Spain. Throughout the film, he encounters characters from all walks of life. This film will leave you, reflecting on your own life's purpose. Be sure to have tissues ready.
5. UNDER THE TUSCAN SUN
Before you press play, be warned that after watching Under The Tuscan Sun, you'll be searching for a charming Tuscan Villa. After a messy divorce, Frances, an American writer, jets off to Italy to heal her heartache and cure her writer's block. On a whim, she buys a lovely Italian villa, and this sets the stage for a series of second-chance adventures.